February 7, 2012 | Leadership, Workplace Culture + Practices
If Kristen Graf has her way, every year from now on there will be more women working in the wind industry. Graf, executive director of the national nonprofit Women of Wind Energy (WoWE), administers the Rudd Mayer Fellowships, which since 2005 have played a key role in identifying and assisting talented women to gain entrée into the world of wind. (Nominations for 2012 fellowships are now open, and described below.)
Women are underrepresented in the wind energy workforce, as they are in other technology-related fields. At the American Wind Energy Association (AWEA) WINDPOWER conference last year, WoWE presented preliminary results of a gender demographics study [.pdf] of U.S. wind energy companies. The study included review of existing research and data, a survey of members of the AWEA Human Resources Working Group, and polling of WoWE program participants.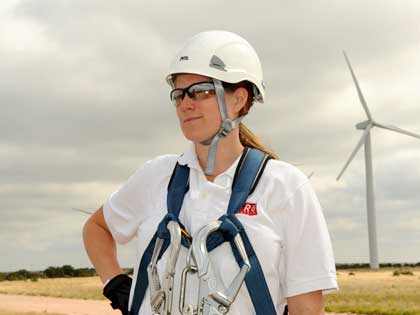 Of the companies that responded, preliminary data indicated that 25% of full-time employees were women. In higher management, only 11% of top jobs were held by women.
That said, huge improvement has happened since the early pre-2000 days when the wind energy industry was populated almost entirely by men. Those few women, including Jan Blittersdorf, CEO of NRG Systems and 25-year wind energy veteran, all knew each other. At trade shows and industry gatherings, they would joke, "One thing we can always count on – there's never a long line in the ladies room!"

Helping women join the wind energy workforce
WoWE's recent study of women in the wind energy workforce cited a comprehensive
World Economic Forum report
[.pdf]:
"The most important determinant of a country's competitiveness is its human talent—the skills, education and productivity of its workforce. Women account for one-half of the potential talent base throughout the world and therefore, over time, a nation's competitiveness depends significantly on whether and how it educates and utilizes its female talent."
WoWE works in many ways to pursue its
mission
to "promote the education, professional development, and advancement of women to achieve a strong diversified workforce and support a robust renewable energy economy." One signature program is the
Rudd Mayer Memorial Fellowships
, supporting women to explore the wind industry and gain the knowledge and contacts to successfully break into the field and thrive.
Each spring since 2005, WoWE has awarded fellowships to women college students or recent graduates, allowing them to attend the WINDPOWER conference, all expenses paid. At this all-important conference, WoWE Fellows learn about current wind issues and technology, and can connect with potential mentors and employers. They attend educational sessions, tour the exhibit floor, and mingle with wind energy professionals.
Forty-seven women have received Rudd Mayer Fellowships in the past seven years. Fellows have come from every level of higher education, where they study engineering, renewable energy and turbine technology, environmental studies and policy, energy management, wind energy siting and permitting, and other fields. In the past three years, WoWE has also given fellowships to several mid-career women who have a passion for wind energy and seek a new professional start. Wind energy companies at WINDPOWER have learned to watch for these highly qualified aspirants, many of whom land jobs in wind energy fields when their studies are complete.

Following in Rudd Mayer's pioneering footsteps
WOWE's fellowships are named for Rudd Mayer (1943-2002), an environmentalist and early wind energy advocate, organizer and pioneer. Mayer joined the Land and Water Fund of the Rockies – now Western Resource Advocates – in the early 1990s to promote clean wind energy in Colorado.
Suzanne Tegen, NREL energy analyst and WoWE's board leader for the Rudd Mayer Fellowships Committee, described her friend. "I can't say enough about how amazing Rudd was. She was a true wind energy pioneer, and an outstanding mentor to men and women working for cleaner air. She had a way of influencing all levels of decision-making, from grassroots campaigns to boardrooms. Rudd remains an inspiration to me, and to other people who push for positive change in the world."
In a Wind Powering America interview at the time of Rudd's death, Susan Innis remembered her remarkable impact, "Rudd proved that a petite woman with a big heart and bold vision could really stir things up. She really helped pave the way for wind development in the Interior West, and each turbine installed in Colorado is a testament to her efforts."
Rudd is credited with bringing 250 MW of new wind energy facilities online in the earliest years of Colorado wind development. She was recognized nationally for this work by the President's Council on Sustainable Development, RenewAmerica, AWEA, and the EPA, among many others.

What your company can do today
Do you know women ready to enter our industry? Women of Wind Energy is now accepting Rudd Mayer Fellowship applications from women who wish to attend WINDPOWER 2012 this June in Atlanta. The deadline to apply is
February 27, 2012
.
To be eligible, candidates must be interested in pursuing a career in renewable energy in the U.S. and be an enrolled student or recent graduate of a college, university, or technical certificate program. The WoWE website offers more information about how to apply.
Wind energy companies can also voice their support of a robust, diverse workforce by signing on as a Women of Wind Energy corporate sponsor. Last year, more than 30 leading U.S. and international wind industry partners showed WINDPOWER attendees, their customers, clients, and employees that support for women of wind is part of their company DNA.
"Hiring, retaining, and advancing more women is critical for the long-term health of the wind energy industry," says WoWE Executive Director Kristen Graf. "The most creative, innovative thinking depends on having men and women of different backgrounds, perspectives, and experiences sitting around the table, closely engaged in decision making. An investment in support of women is a key component for building the clean energy future we seek."