Solar Towers
Solar Towers
Constructed of sturdy galvanized steel, NRG towers are reliable and easy to transport to remote sites. No cranes or concrete foundations are required for installation. Tower tube sections slide together and can be tilted up from the ground using a ginpole and heavy-duty winch.
We encourage customers to bundle their towers with a data logger and sensors to create an integrated solution. This ensures that all system components arrive together, simplifying installation schedules and saving you time and money.
Products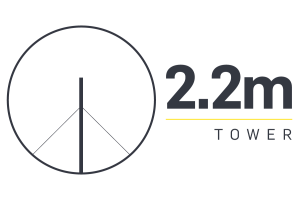 2.2m Tower
Designed as an integrated component of our SRA System, the 2.2m Tower provides the ideal mounting platform for a wide variety of solar resource assessment and solar resource measurement sensor configurations.