April 27, 2012 | by NRG Team Voices | Sustainability + Energy
When I do home projects, I sometimes make a plan.  Other times (that would be most of the time),  I just get into the project and figure it out as I go along.  I wish my preference was the former, but in practice my plan is typically a work in progress.  This is the way I am – I know it, my wife knows it and my Myers-Briggs personality type (ENFP) somewhat explains it.  And this is why the lights sometimes dim in my neighborhood, letting my neighbors know I am working on electrical wiring again.
But once in awhile, I do make a plan.  I find a hard to find piece of graph paper, I sharpen a pencil, I grab a calculator and a ruler and I start drawing and writing down everything I can—I actually make a plan before I go to the lumber supply store, rip out the dry wall or pull the trigger on the circular saw.
Again I admit I am not a planner, but I do agree that making a plan sometimes really matters, especially when the project is more ambitious (gutting the living room) and more expensive (French doors requiring temporary bracing of the kitchen ceiling). Planning well means the results might be more certain, I can share the plan and gather input with others (which my wife appreciates greatly).  With a plan, the benefits quickly come back to you—time is saved and trips to the lumber and hardware stores reduced (one trip being always my unattainable goal).

Measure Twice, Cut Once
As someone who does not have the predilection to plan, developing renewable energy resources is something I best leave to others.  No bank would finance my project – even with my many-times-erased drawings and paper scraps with lists that include roofing nails, 50' roll of tar paper and a half case of Long Trail beer.
My guess is I would have at least three years back of the 10 I spent upgrading my aging Vermont fixer-up-special  IF I had just taken the time to plan the project before pulling nails, ripping out the drywall, or at the very least taken out my tape measure (did anyone see my red tape measure? ) and taken more careful measurements.  The fiberglass surround tub would not have that crack in it from squeezing its dimensions into a slightly too small space.  And how much drywall taping time would have been saved if the piecework fitted more precisely.  (And my pride won't let me continue this list!)

Megawatt-Scale Solar: No tape measure required?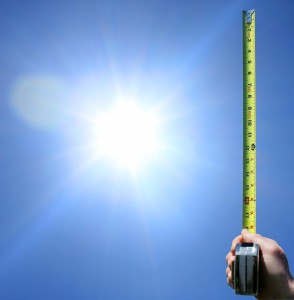 About four years ago, as an avid reader of the renewable business trade, I began to notice the solar industry editorial was taking over many of the 'renewable energy' print trade publications.  Solar costs were coming down, especially the costs of photovoltaic (PV) panel modules, and projects were beginning to take advantage of economies of scale.  As utility, megawatt-scale projects emerged, I learned most were obtaining project finance using satellite and when available, nearby ground-based data sources.  In the solar trade, there was no requirement for on-site, ground-based measurements for a period of time.  Given my predisposition to start DIY projects without working plans, I was struck to learn that utility-scale solar was fast growing and as such
without an on-site measuring tape. 
Can an entire industry borrow millions of dollars and qualify for tax subsidies without on-site measurements? 
The truth is, yes it can. But the granular reality is that there are rewards for knowing more precisely how much energy you will likely to be able to glean from a site—in the industry, this is called "lowering uncertainty", which in turn lowers the financial risk for lenders investing in your project (here is an AWS Truepower presentation that explains how this works). Lenders recognize lower risk by offering more attractive lending terms. If solar is anything like the wind industry, conducting an on-site solar resource assessment campaign will not be optional in the future as lenders and ratings agencies become more savvy and developers seek larger financing for their projects.
Please let me know if anyone out there finds my red Lufkin 25 ft. tape measure.
David Simkins specializes in strategic business development and marketing at NRG Systems.