March 8, 2011 | Engineering + Technology, Leadership
The wind industry has long been a source of innovation, yet you, like I am, may be acutely aware that the rules of the innovation game in renewable energy are changing.

The Old Game
Gone are the days when the industry's sole focus was on the business process innovations needed to build turbines bigger and faster in order to begin to meet the overwhelming demand for turbines. Also gone are the financiers ever-ready to invest in wind farms to be built anywhere in the Western world, all but regardless of the results of the wind resource assessment study for a specific project site.
The Changed Game
Today the focus tends to be on solar PV break-through technologies and wind turbine design and maintenance refinements that improve the net cost of energy (
NCOE
), wind resource assessments are carefully scrutinized to reduce uncertainty, and the investment money flows into India and China.
Five Insights on Innovation
So perhaps I was more receptive than usual at a recent three-day innovation conference sponsored by the
Vermont Manufacturing Extension Center
, or maybe it was simply one of the best of such innovation conferences I've attended over the years. (That did seem to be the conclusion of the NRG System's team in attendance.) In any event, the learn-do approach at the "Innovation Engineering Leadership Institute" yielded five insights that struck me as immediately timely and valuable for any company in the wind industry.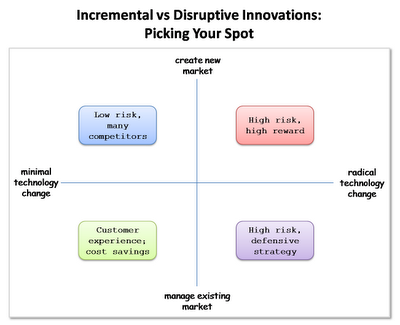 #1 Innovation doesn't just mean new products or disruptive technologies. Innovation also includes creative problem solving, the continuous improvements of adding value through lean manufacturing, new business processes that reduce waste, and advances in customer service.
#2 If you're not meaningfully unique, you better be cheap. Recent years have underscored the wisdom of this classic business mantra. Over time, there is always another country or another company that can produce a generic product cheaper than you can.
#3 The two keys to success with innovation are having a system for innovation in place, and having proactive leadership. (A system for innovation doubles your odds of above-average profitability, and it requires proactive leadership.)
#4 Your innovation engineering system needs to create, communicate and commercialize meaningfully unique ideas. Since an effective system can reduce time-to-market tenfold, this is a meaningful motivator for any company.
#5  There are many lengthy tomes and countless speakers out there that provide in-depth analysis on creating and communicating engineering innovations, so it was the commercializing innovations piece that seemed freshest to me. In particular, the advice to "fail fast, fail cheap" with simultaneous engineering projects really resonated.
I look forward to building on the foundation of the innovation system we are working to institutionalize at NRG Systems. The wind industry will only continue to thrive if we continually create, communicate and commercialize successful innovations that address our customers' problems.