April 1, 2016 | Engineering + Technology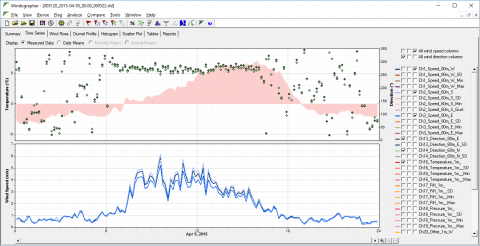 Many RNRG customers are also users of Windographer software by AWS Truepower. Windographer allows users to visualize and analyze wind measurement data from their fleet of measurement devices, including met towers and remote sensing devices.
A recent update to Windographer (version 4.0.12 and later) improved the integration with our newest data logger, SymphoniePRO. That is, Windographer now reads *.RLD files from the SymphoniePRO Data Logger—either one at a time with File > Open, or many at once with File > Append or via drag and drop. It reads calibration constants and serial numbers from *.RLD files, recognizes and displays where calibration changes occur, and makes it easy to adjust slopes and offsets. When reading encrypted *.RLD files, it prompts the user for the encryption password. In addition, Windographer has all the same capabilities when reading *.RWD files from older Symphonie series data loggers.
Learn more about Windographer here: www.windographer.com.