June 5, 2023 | by Liz Wallace | Engineering + Technology, Wind Plant Optimization
The Hybrid XT | WRA Anemometer and Vane support operational met towers being used for wind resource forecasting and analysis in climates that experience frequent icing and other extreme weather conditions. The sensors' ample 96W heater coupled with an all-metal design make them the ideal choice for maximizing wind measurement data availability where other sensors may be frozen.
NRG Systems introduced the Hybrid XT | WRA Anemometer and Vane as replacements for the now obsolete IceFree3 sensors. They are offered as a turnkey solution that includes:

The diagram below illustrates NRG's complete Hybrid XT | WRA solution: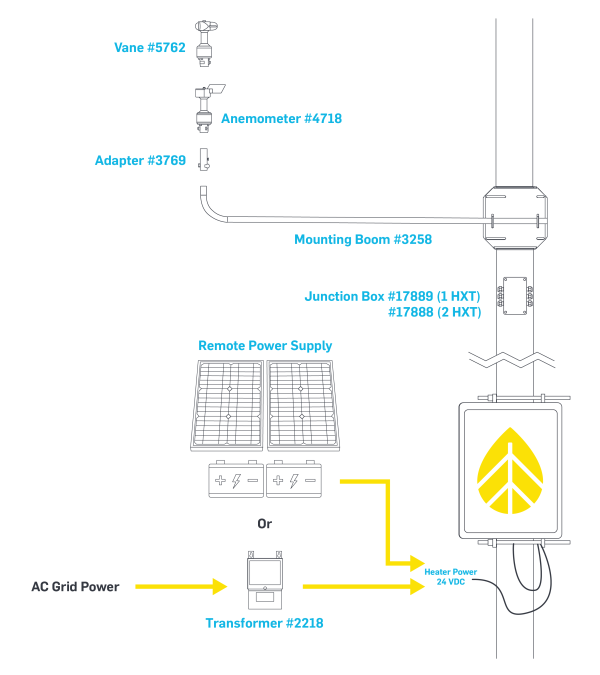 Because Hybrid XT | WRA sensors require more power than their IceFree3 predecessors, there are a few key guidelines to follow to ensure optimal performance. In addition to needing power for the internal heaters, Hybrid XT | WRA sensors require power to send readable signal measurements to the connected data logger. Each sensor draws a maximum of 40mA while in use, so constant power of 80mA at 12V is required. The failure to adequately power and heat the sensors will void the warranty, therefore, an on-grid power solution is highly recommended. If using Hybrid XT | WRA sensors off-grid, we recommend a reliable power supply be integrated into your project. Lastly, always power Hybrid XT | WRA sensors with external power. Utilizing your data logger's iPack power supply to operate your Hybrid XT | WRA sensors will result in power failing to the logger and loss of measurement data. If you need assistance planning your power supplies, NRG's Technical Services is ready to help. Please contact support@nrgsystems.com to discuss your project's unique requirements.
Want to secure better wind speed and direction measurements for your harsh climate projects? Contact our sales team at sales@nrgsystems.com for more details today.