July 18, 2022 | by NRG Team Voices | NRG Systems News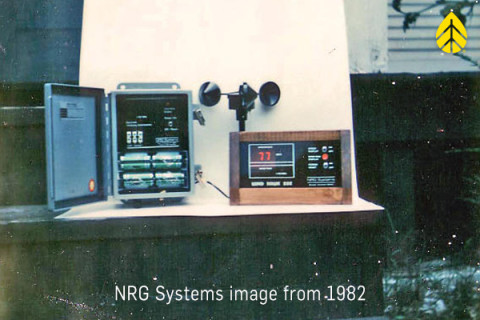 When NRG Systems was founded in 1982, the renewables industry as we know it was just beginning. The first utility-scale wind farms were being installed in California and the U.S. Department of Energy, along with a consortium of utilities, launched Solar One, a pilot project in the Mojave Desert that was the initial test of a large-scale thermal solar power tower plant. Over the next four decades, renewables have slowly but surely become a top player in the energy sector and NRG Systems has kept pace.

We began as a small company making wind measurement instruments out of a garage in Vermont. While our origins may have been modest, our products were pioneering. We revolutionized the way wind resource assessment was done with the development of our tilt-up tubular tower and complete system approach to wind measurement. Our customer base soon stretched across continents and as we gained a solid foothold in our industry, NRG as a company continued to mature and diversify.

Our commitment to intuitive, user-centric products has remained steadfast and today we offer hardware, software, and services for all stages of utility-scale wind and solar development. To get to this point, we have had to be nimble, forward-thinking, and willing to take risks. We have maintained a strong team, including some employees who have been with us since those early days, and cultivated long-lasting relationships with our global dealers and technical partners. Without the support that has come from within our own walls and beyond, we would not be where we are today.
As we look back on the past four decades, we are most proud of what we have accomplished together as an industry. We look forward to being part of the clean energy transition that is well underway and so desperately needed. It has been a long time coming and we are grateful to be able to see it through.