Li-Cor LI-200R Pyranometer
Li-Cor LI-200R Pyranometer
Recommended for early stage prospecting, the Li-Cor LI-200R pyranometer is an excellent general purpose solar radiation sensor.
Details
The LI-200R measures Global Horizontal Irradiance (GHI) - the combination of Direct Normal Irradiance (DNI) and Diffuse horizontal irradiance (DHI). The sensing element measures sunlight in watts per square meter (W/m2) and provides a small current signal that is compatible with any Symphonie series data logger when equipped with a Symphonie® SCM Card.
The LI-200R is an improved version of the popular Li-Cor LI-200SZ Pyranometer. The new sensor has several advantages:
Improved Cosine Response - The new design maintains sensitivity at greater angles of incidence, providing more accurate measurements when the sun is rising and setting.
Improved Cable - A new shielded, twisted cable design replaces the old coaxial cable. It has thicker insulation for improved durability and better sealing.
Improved Connector - New BNC cable connectors have reinforced strain relief to further improve durability.
Removable Cable and Base - The sensor and cable both detach from the sensor base, making it easier to send out for calibration or replace just the cable or just the sensor at your site.
Improved Sensor Housing - More robust water shedding and improved sealing prevent water ingress.
This kit includes a calibration certificate, leveling base, and 5 m (16.4 feet) cable.
Li-Cor LI-200R Pyranometer (#10162)
Description
Sensor type
Total solar radiation sensor
Applications

Solar resource assessment
Meteorological studies
Environmental monitoring

Sensor range
0 W/m2 to 3000 W/m2
Instrument compatibility
All NRG data loggers.
Measurement range

SymphoniePRO measurement range = 0 W/m2 to 2200 W/m2, typical
Symphonie, SymphoniePLUS and SymphoniePLUS3 measurement range = 0 W/m2 to 1600 W/m2, typical

Signal conditioning module

SymphoniePRO with '0 to 160μA SE Input' P-SCM (#9129)
Symphonie, SymphoniePLUS and SymphoniePLUS3 loggers with LI-COR Pyranometer SCM (#3154)

Output signal
Signal type
Microamp current proportional to total solar radiation
Sensitivity
Typically 75 μA per 1000 W/m2
Linearity
Maximum deviation of 1 % up to 3000 W/m2
Response time
Less than 1 μs
Transfer function
Included on calibration certificate
Calibration

Calibration sheet included with each sensor defines output in microamps per 1000 Watts/square meter
Calibrated against Eppley Precision Spectral Pyranometer (PSP) under natural daylight conditions. Absolute uncertainty under these conditions is +/-3 % typical, +/-5 % maximum

Output signal range
0 μA to 225 μA, typical
Performance characteristics
Cosine correction
Cosine corrected up to 82° angle of incidence
Azimuth
< +/- 1 % error over 360° at 45° elevation
Tilt
No error induced from orientation
Installation
Mounting
Mounts to tower with custom NRG side mounting boom and hose clamps
Tools required

Sheet metal shears or similar for hose clamps
5/16 inch hex driver or flat blade screwdriver
0.05 inch hex key (included); metric #4 allen wrench for level adjustment

Environmental
Operating temperature range
-40 °C to 65 °C (-40 °F to 149 °F)
Temperature dependence
+/- 0.15 % per °C maximum
Operating humidity range
0 % to 95 %, non-condensing
Physical
Connections
3 bare wire leads
Cable length
5 m (16.4 feet)
Weight
24 g (0.85 ounces)
Dimensions

23.6 mm (0.93 inch) diameter
36.3 mm (1.43 inch) height

Materials
Cable
BL-type (3-wire bare leads)
Detector
High-stability silicon photovoltaic
Enclosure
Weatherproof anodized aluminum case with acrylic diffuser and stainless steel hardware
Accessories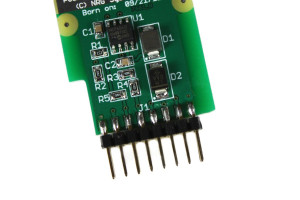 Symphonie® SCM Card
Condition your sensor's output signal so that a SymphoniePLUS3 Data Logger can read it by installing a Symphonie Signal Conditioning Module (SCM).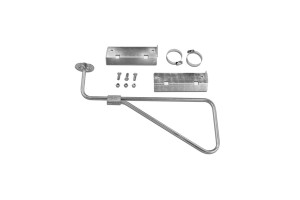 Mounting Boom | .52m (20.5"), Pyranometer
Mount Li-Cor LI-200 pyranometers on NRG TallTowers.